Reading time – 39 seconds  .  .  .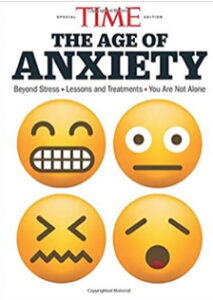 One of the things I do when delivering a keynote or workshop version of my Fully Alive Leadership – Leading in Uncertain Times program is to poll the audience. There are always discrepancies between the way they report how they themselves are feeling, versus how they think their direct reports are feeling. They seem to present as cheerier than they think their reports are. I don't know if they're actually handling our current uncertainties better or if they are reporting a more self-pleasing picture of themselves. Nevertheless, these C-level people always report some level of anxiety in themselves and more in their reports.
And that makes sense. So much so that Time Magazine published a full issue focused on the anxiety Americans are feeling. Everyone knows someone who has been laid off, people are working from home and are cemented in front of a computer screen all day long, dealing with kids and pets underfoot. And we're still adjusting to wearing masks and staying socially distant. How long has it been since you hugged a relative not living with you – parent, child, grandchild, brother, sister? This is not stuff to which we are accustomed and it makes we human beings uncomfortable – even anxious. The cherry on top of that sundae is that others are looking to you to be the leader and help them function in the presence of their own anxiety.
In a recent post on FiniteEarthEconomy.com they posit some reality for you:
You can't deny a disruptive future – you must learn to work with it. (Jack's translation: tomorrow won't look like yesterday or even like today.)
You can't shy away from uncertainty – you need to shape some clarity.
You can't avoid the things that you don't know – you need to include others who know what you don't.
You can't presume things will go back to normal – there is only disruptive volatility within which we must learn to thrive.
You can't subscribe to the old assumptions that defined your past – you need to make some new ones . . . constantly.
It's all true, of course, and if you're to fashion a successful tomorrow, you'll have to help your people deal with today's reality and prepare for tomorrow. How will you do that?
Suggestion: Get over any vestigial Superman issues you may not have shed yet and get help.
---
Invite Jack to Speak!
Whether it's a keynote presentation for your annual meeting or the industry convention, or the workshop for your leadership team, Jack delivers actionable content that goes down easy and delivers great value. Check into the possitilities here.