I recently delivered a Fully Alive Leadership workshop at the Four Seasons Resort in Punta Mita, Mexico, a resort area 45 minutes outside of Puerto Vallarta. The day after my workshop I had the privilege of attending a presentation given by the manager of the resort, José Adames. He talked about what differentiates his facility and the practices and values that drive the behavior of all the employees so that guests have an exemplary experience.
He explained that they hire new employees for attitude and train for skills. That is a tried and true hiring practice, because people are and will continue to be exactly who they are. As my friend and author Ole Carlson likes to say, "It's easier to change the people than it is to change people," so hire carefully. At the Four Seasons – Punta Mita, José looks for people who love to serve. Then his leadership team trains them to learn the specific skills they need to do their jobs, including English classes in the off-season.

Throughout his talk José echoed Joe Pine from his book The Experience Economy where he wrote that what people remember best is how they were made to feel. "We are creating memories," José said, and he makes sure his employees understand that and that they do whatever it takes to make wonderful memories.
Of course, they have operating systems at the resort, he said, and they train their employees and monitor performance relative to their systems. However, they have learned that flexibility is the key to a great guest experience and they have learned to adapt their systems.
For example, their maids are trained to clean rooms and put things into their proper places. What José and his leadership team have learned, though, is that once a guest has occupied a room s/he will make adjustments to it according to what they like. So, when a maid finds a chair moved from a table and placed by the window, rather than replacing the chair by the table, she is trained to leave the chair where it is, because that is what the guest wants. When a guest's shoes are in a corner of the room and not in the closet, rather than moving them to the closet, the maid will square the pair of shoes and leave them where the guest left them, again assuming that is what the guest wants. José called that "Getting it right – the way the guest wants it."
There was more, of course, but what stood out more than anything was what a wonderful ambassador for the resort José is. He exudes passion for his job and tells the story of his resort with an infectious enthusiasm that makes people want to come back. It is worth noting, too, that when asked about his enthusiasm he said, "The company has taken great care of me." Once again we see that knowing that leaders care about their people results in their people caring and giving their best.

Surely, it is your job as a leader to be a great ambassador for your shop. It is also your job to make sure that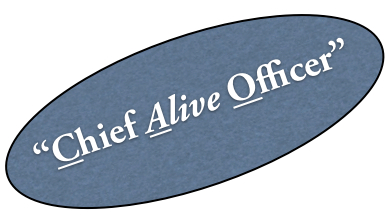 your people know you care about them so that they are enthusiastic and become great ambassadors, too. And to be a great ambassador and to ensure that your customers and your employees have an exemplary experience requires your full presence. So be like José Adames – be the Chief Alive Officer.
---
Invite Jack to Speak!
Whether it's a keynote presentation for your annual meeting or the industry convention, or the workshop for your leadership team, Jack delivers actionable content that goes down easy and delivers great value. Check into the possitilities here.