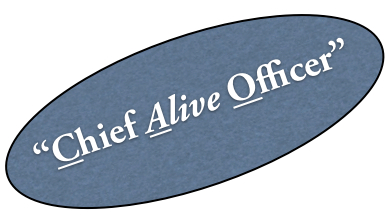 Reading time – 29 seconds
You lead by example, whether intentionally or unconsciously.
That's because we humans notice everything about our leaders.  Your people know if your socks match.  They see everything you do and they hear both the words and the music of everything you say.  They know in an instant if you're right there with them – great leaders are always fully present with those who look to them for leadership – and they respond accordingly.
To gain your people's full engagement, the complete package of their discretionary effort, you have to show up fully.  Completely.  In the moment.  Right here and no place else.  That is to say, you have to give yourself a promotion and assume the title and job functions of
Chief Alive Officer ("CAO")
When you live it you become trustworthy and meaningful to those who look to you for leadership.  And the magic that will occur may astound you, because two things are almost certain to happen.  First, your people will begin to show up with their full presence, too.  That's because we human beings always emulate the leader.  Second, results will be different and they will be way better. And you're all about results, right?
So, how are you doing at leading with your full presence, Fully Alive?  On a scale of 1 – 10, rate yourself in your job as the Chief Alive Officer and report it and your thoughts in the Comments section below.
---
Invite Jack to Speak!
Whether it's a keynote presentation for your annual meeting or the industry convention, or the workshop for your leadership team, Jack delivers actionable content that goes down easy and delivers great value. Check into the possitilities here.